22-23 september kör vi WettCon II i Jönköping.

Anmälan görs per e-postl till wettcon@gmail.com
Ange namn, spelförening, armé (om ni redan vet det) och ett telefonnummer jag kan nå er på om det skulle behövs.
Turneringen kostar 200kr 250kr och betalning görs till SEB konto clearing 5146 konto: 30 160 93 pengarna ska vara inbetalda till 3:e september, vid senare betalning ökar summan till 250kr. Kom ihåg att ange vem som betalar.
Armélistor skickas till samma adress som anmälan men märk den med armélista och ert namn i rubriken samt att armélistan ska vara skriven enligt mall nedan*. Armélista ska vara inne senast 24:00 7:e september. Sena listor kommer innebära poängavdrag.
Det blir 5 matcher swiss med 2400p med dolda magic items och abilities och vi kommer att spela med en vidareutveckling av SCGT:s restriktionsmall.

Match 2-4 kommer vara scenarion, match 1 och 5 Battleline)

Vi kommer att använda oss av samma line of sight som ETC. Vi testar även en ny variant på poängsystem där man även lägger till sina VP till totalpoängen med ett maxtak på 5000BP se exempel nedan i posten. Tanken med detta system är att premiera ett offensivare spel.
Det kommer finnas sovsal att tillgå mellan lör-sön, vi kommer även ha en liten kiosk där man kan köpa kaffe och godsaker.
Schema:
Lördag
08:30-09:15 Anmälan
09:15-09:30 Samling med Info
09:30-12:30 Match 1
12:30-13:30 Lunch, målningsbedömning
13:30-16:30 Match 2 -
Nomination
16:30-16:45 Paus, Uppställning best painted
16:45-17:00 Omröstning best painted
17:00-20:00 Match 3-
Meteoric showers
Söndag
09:00-12:00 Match 4 -
Collection
12:00-13:00 Lunch
13:00-16:00 match 5
16:15 Prisutdelning
Nomination
After deployment but before rolls for who goes first is decided, choose an enemy character or unit; this is worth double victory points at the end of the game. If the unit chosen by your opponent has survived at the end of game you receive its point cost as VP.
Show your opponent what unit you have chosen.
Meteoric showers
After you have chosen sides place a marker at the middle of the board, then place one marker each outside the deployment zones and at a minimum distance of 10" apart from other markers use a dice roll to decide who places markers first. At the start of each players turn before any other event has taken place roll a scatter dice and 3 d6 for each marker, measure the distance (if a hit or tipple is rolled place it over the marker) and place a 3" template at the spot, each model beneath the template suffer a S2 magical hit, D3 wounds no saves allowed except Ward saves generated from magic resistance (look out sir works in the same way as if hit by a stone thrower template). If a unit (characters are discounted) has stayed atop a spot for 6 or more strikes and survives the game the player receives it´s point as VP.
Collection
Each standard captured and each of your own standard surviving the game is worth 75 VP at the end of the game. Captured enemy BSB standard is worth 250 VP.
Exempel
:
Spelare 1 och spelare 2 har spelat en match och den slutar med att spelare 1 tagit 1355 VP och spelare 2 873 VP. Det blev en skillnad på 482VP vilket ger spelare 1 1750 BP och spelare 2 1250 BP, Utöver detta kommer varje spelares VP läggas till vilket kommer ge spelare 1 totalt 3105 BP och spelare 2 totalt 2123 BP.

Exempel på hur resultatarket kommer se ut.
Målningsbedömning
Du kanfåmellan 0 och 5000p i målningsbedömning. Grundkravet är att allt på modellen är målat och i tre färger så att en del detaljer i modellen har tagits fram och då räknas inte grundsprejning och dylikt in. Baserna ska ha någon sorts basning i form av sand eller dylikt som målats detta ger en grundpoäng på 3000, är det någon modell som inte når upp till detta grundkrav blir det 0p i målning.
Utöver detta kan du få ytterligare +600 för att armen ser sammanhängande ut dvs allt har samma basning, går i samma färgschema eller har ett tydligt tema. Arméer där det tydligt framgår att den består av lånade modeller från flera olika arméer får inte den här bonusen.
Har du lagt ner lite extra jobb genom att highlighta/washa/dippa/drybrusha för att få fram detaljer och göra skuggningar och dylikt samt gjort mer avancerad basning eller ett flertal konverteringar som är mer än att byta huvuden och vapen så får du ytterligare +800 poäng.
Har du en armé som är utöver det vanliga dvs har en wow faktor kan du få ytterligare +600p, detta kan vara omfattande konverteringar, en målning som fångar ögat eller något annat som verkligen lyfter armén. Denna bonus kan endast fås av dem som själva målat/konverterat sin armé.
Line of Sight
Terrain pieces are divided into ones that:
Block LoS: Hills, Buildings and impassable terrain.

Don't block LoS: all other terrain.
Unit is considered to be in hard cover when:
your models shoot through interfering unit, as described on page 41 BRB

unit is garrisoning a Building, as descry ibed on page 127 BRB

unit is defending an obstacle, as described on page 122 BRB

majority of unit's footprint is obscured from shooter's LoS by LoS blocking terrain, as described on page 41 BRB

majority of unit's footprint is in Ruins
Unit is considered to be in soft cover when:
your models shoot through or into woods, as described on page 119 BRB

majority of unit's footprint is in Fields
Units on hills don't get the hard cover penalty for being shot or for shooting through interfering units, unless interfering unit is on hill.
Unit shooting from a building is treated as if on hill regarding it's LoS and therefore possible Hard Cover for interfering units.
Large Targets can't claim cover for obstacles, ruins, fields and interferring units
Vi ska spela i Kulturvinden på Kulturhuset i Jönköping och adressen dit är: Svavelsticksgränd 7, 553 15 Jönköping

Entrédörren är den röda i trevåningsbyggnaden där vi kommer spela på tredje våningen, ta trappan direkt upp till vänster.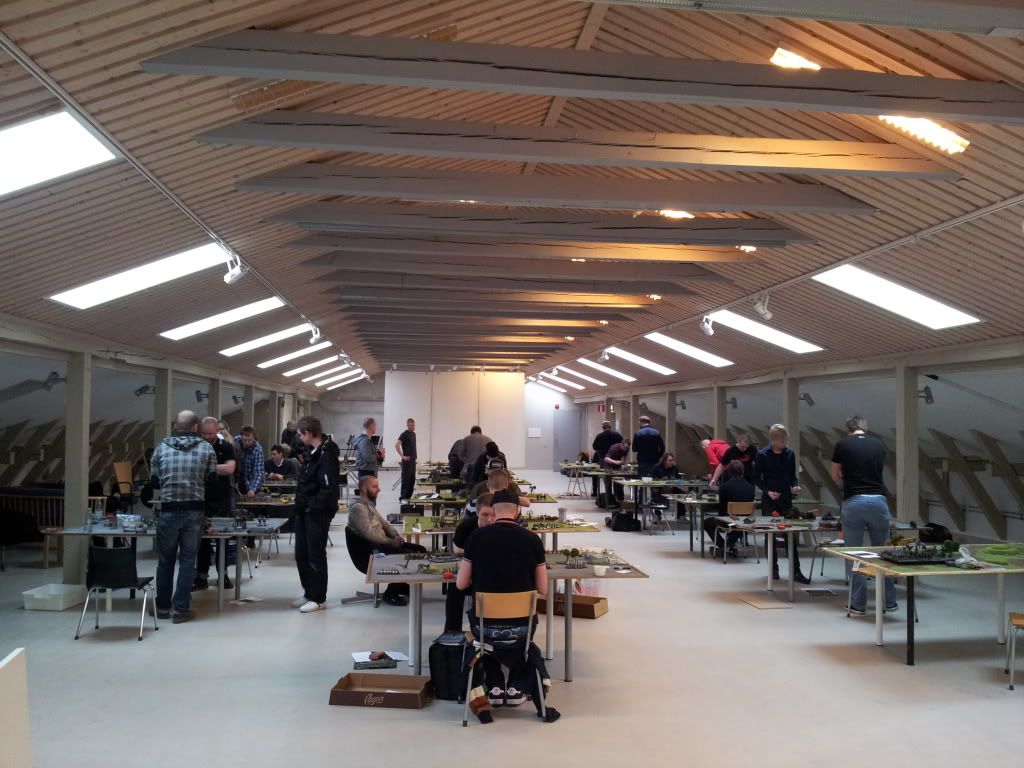 Bild från förra WettCon.
Väl mött
Björn Ericson
/Arrangör
Detta inlägg har redigerats av AlFiKa: 03 september 2012 - 18:38
Uppdaterat med info om sovsal och kiosk